17-04-2016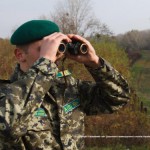 Three illegal migrants were detained during the last day by the border guards of Ukraine, Slovakia and Poland nearby the state border in the course of joint actions conducted against illegal migration.
One of the violators was found in Transcarpathia in a result of information received from Slovakian colleagues. The border guards of neighboring country noticed unfamiliar person moving towards Slovakia by means of video surveillance devices and reported about this to border guards of Chop Detachment.
In a result of organized joint patrolling and continuous searches, the violator was revealed and detained close to the border. The man introduced as the citizen of Georgia, however no any documents he had.
Also, joint searches of illegal migrants and their possible crossing of the border at Ukrainian-Polish area of the state border were conducted. In the result of performed actions, there were 2 citizens of Russian – natives of Chechnya detained. The border guards of Mostytskyi Detachment also clarified that detainees arrived to Ukraine in accordance with established order.