10-04-2016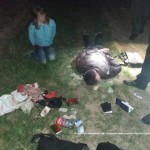 Two citizens of Ukraine, who on preliminary data being involved in murder and physical abuse, were detained in the morning nearby the border by the border guards of Chop Detachment.
At about 5 a.m. the border detail performing the inspection of the state border stopped a man and woman without documents. Detainees were a married couple, citizens of Ukraine. During examination of their stuff three passport documents of the citizens of India and bloody kitchen knife were found in the bag of mentioned persons. The representatives of National Police were informed on this fact and it was established that detainees were suspected in murder commissioning of 2 citizens of India in Uzhgorod and infliction of serious bodily injuries to one more citizen. After drawing up corresponding documents detainees were handed to National Police. Further checking measures are conducted and circumstances are under establishment.
As it was reported before, on April 10 at about 4 a.m. local resident called to hot-line 102. The man told about founding two dead young men in the private house. The third boy was severely injured having knife wound.