05-04-2016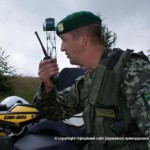 A group of unfamiliar persons was detected at the border on Hungary. Eight illegal migrants were apprehended in the course of operative-searching actions in Transcarpathian region.
First, border guards of Mukachevo detachment caught 3 citizens of Sri Lank. They left 30 m to reach the border. In the course of further searching activities in the same direction the border guards detained two citizens of Sri Lanka. Soon, one more Afghani was found. Besides, afterwards the service dog took the border guards to the traces of two more Sri Lanka citizens.
All detainees were men having no any documents. One of them felt bad during the trip. The doctors called by the border guards revealed body dehydration after his examination. He was rendered medical aid, so far the patient's state is satisfactory.
The "travelers" of the age 23-60 reported that they had to pay in average $3000 in order to get to EU countries. While approaching EU borders the smugglers separated them to small groups for increasing their chances to cross the border. However, they failed to embody their plan.
It will be marked that recently the cases of big groups splitting are often fixed trying to get over the Ukrainian border.
Now, the detainees are delivered to Border Subdivision for drawing procedural documents. Besides, the action on searching and identification of persons involved in illegal migrants' trip go on.