03-04-2016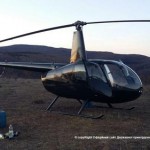 In the course of joint actions with Slovakian law enforcement agents on counteraction to illegal migration with application of small flying apparatus Ukrainian border guards conducted a complex of operative-searching activities.
The channel of illegal migrants' transportation and helicopter being most likely used for smuggling was detected during the joint international operation at Ukrainian-Slovakian border.
As a result, the border guards of Chop Detachment in cooperation with SSU staff discovered the sports helicopter and 3 persons – two pilots and local resident in the area of the village Poroshkovo at night. During detention of the violators the border guards had to make warning shots up as resistance was rendered.
It shall be marked that one of the pilot has already been detained by the staff of State Border Guard Service for the third time. Recently, he was apprehended as the plane pilot smuggling cigarettes.
So far, joint actions go on with EU border guards at the western area aiming at counteraction to use small aviation.