23-04-2016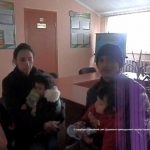 At night border guards of Mukachevo Detachment detained the trespassers. Thus, at about 2 a.m. border guards of BS "Luzhanka" receiving information from local resident about the movement of unfamiliar persons towards the border started to the place immediately. Already in some minutes they detained two citizens without documents. They left 20 m to reach the border. The detainees reported to be the citizen of Sri Lanka and Bangladesh.
Besides, during the inspection there was a package with white substance found in the stuff of the Bangladesh migrant.
Yet, four seekers of better life were apprehended by the border guards of BS "Kosyno". Detainees were young spouse from Afghanistan. They had no any documents. The married couple took two children of two and three years old with them into the trip.
So far, all detainees are delivered to border subdivisions for drawing up procedural documents. In addition, measures are undertaken on searching and establishment of persons involved in organization of persons' illegal .