15-05-2016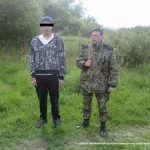 The border guards of Mostytskyi Detatchment detained the violator intending to cross the Ukrainian-Polish border in illegal way avoiding the check points. The violator was revealed a kilometer and a half before the state border by the border guards of BS "Shegeni" in the suburb of one of the villages in Lvov region. Detainee was 18-year-old migrant from Syria being arrived to Lvov the day before, and then getting to border station he planned to walk to the neighboring Poland. He oriented by means of satellite navigator in his smart phone, however, he attracted the local residents' attention in the suburb of the village, who reported to the district inspector of State Border Guard Service.
Also, it was established that he arrived to Ukraine from Russia, where his mother's residence place, in the course of the interview. He had the passport of the citizen of Russian Federation issued in the beginning of April of the current year. According to the explanations of the detainee, he got this passport while visiting his mother in Russia. The final point of foreigner's trip had to be Germany, where, according to his words his brother had been living for a long time, who could assist him to be employed.
So far, the citizen is detained in administrative order, and then the court will define the type of administrative responsibility for attempt to cross the state border of Ukraine in illegal way.