24-05-2016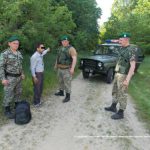 Four persons passing beyond the check point intending to cross the border in illegal way were apprehended by the border guards of Ukraine and Hungary. Two violators wishing to get to the neighboring Poland through the "green border" were detained by the border guards of Mostytskyi Detachment in Lvov. The border guards of BS "Krakovets" detained unknown citizen by information received from the residents of the border area, who noticed the unfamiliar getting out of the bus and moving towards the settlement suburb of Krakovets. Reaction group apprehended the trespasser, 39-year-old citizen of Turkey, some metres before the border. The man did not deny his intention to get to Republic of Poland illegally, which was also confirmed by preliminary planned route in the navigation app on his smart phone.
In the second case, the border guards of neighboring Subdivision "Shegeni" detained 29-year-old Ukrainian, who by walking intended to get to Poland. The man did not have any documents, his aim to cross the border was not denied.
The border guards of Sumy Detachment  apprehended a citizen of Uzbekistan 10 m before Ukrainian-Russian border. He attempted to cross the border between Ukrainian village Bachevsk and Russian one Troebortnoe also avoiding the check point.
Documents were drawn on administrative infringement under Article 204-1 of Code of Ukraine on Administrative Infringement (Illegal cross or attempt to cross the state border of Ukraine in illegal way) regarding the detained citizens.
Besides, border guards of Mukachevo Detachment noticed unfamiliar person from the observation tower some meters before the border in Transcarpathia and informed border guards of this point. Soon, the violator was detained in specified direction, this was the citizen of Guinea.