02-06-2016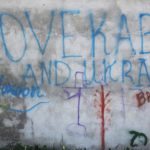 We start to Transcarpathia, namely to Mukachevo TAF, in order to check how local residents get on with refugees from different countries.
Last year absolutely indifferent to refugees' issues Mass Media was overwhelmed by the stream on "migrant invasion" and "Syrian refugees" telling Ukrainian spectator about those nightmares the civilized "Europe"  has to face. Riots in Köln, EU border storms, camping at Hungarian railway stations and overcrowded trains to Germany – these are apocalyptic scenes fitting every taste making quickly the spectators and journalists' opinion. When an issue was raised in February about the opening of Temporary Accommodation Facility in the town of Yagotyn, local residents and Mass Media had been already "ready'. Hard-right political forces added fuel to the fire taking an active part in "people's voice" and being accusers of "truth" about those fears, which refugees bring to average Yogotynians.
We heard about "exotic diseases" from the speakers at the meetings as well as about the growth in criminality, drug trade, rape and many other things, which, on their opinion, should be expected from the neighborhood with refugees. There is only one problem here – all this does not correspond to the reality. Two Temporary accommodations Centers serve as evidences operating within the territory of Ukraine already not for the first year, which do not appear in the news quite often, because nothing of abovementioned happens there. In order to check how local residents get on with the refugees from different countries, we start to Transcarpathia to Mukachevo TAF.
The Facility locates at the embankment of the Latorytsya River, five minutes to reach the town centre. People of different age and sex constantly walk along its concrete fence. There is a two-storied building behind it well refitted inside and outside. There is a sports ground paved with asphalt, horizontal bar and swings for children at the back yard. The fence inside does not have much signs of like Love Kabul and Ukraine, from which the author's origin is evident. The residents are almost unseen. The majority of them took children to schools for Farewell Bell. "When entering the territory have you seen bribed wire here, any men with the guns?" – Petro Rozsola, deputy head of Transcarpathian TAF, is astonished by our question. "They have a complete freedom of movement. We do not write down the places they go to".
Temporary Accommodation Facility for refugees has started its work in Transcarpathian region in 2007. It consists of corpus in Mukachevo (estimated for simultaneous residence for 70 persons) and corpus in Perechyn (for 50 persons). "The biggest flow of persons being in need of shelter was in 2008 here. These were 342 persons. Within each year, the flow of refugees decreases and decreases" – it is told by deputy head, relating this decrease with migration route shifts, which passed through Ukraine to Balkan countries before. So far, there are 96 persons applied for asylum and expecting for refugee status granting or need subsidiary protection. "Our competence is to provide with residential place, food and first medical aid," – Petro Rozsola explains.
Regardless of what could be expected, the Syrian refugees do not and will not make up the majority of Facility residents and growth in their number was not fixed for the last year. According to the words of Petro Rozsola, before Afghanis were in the majority among the residents of the Facility, however, gradually, the quantitative gap between the representatives of various nationalities has practically disappeared. At the present moment there are persons from Afghanistan, Palestine, Uzbekistan, Syria and many other countries – mainly from the Near east and Indo-China. Although, Russians are also remembered here.
One of the symptomatic moments in "Yagotyn story" – is addressing to refugees like "Syrians", "Afghanis", "Muslims" and using phrases of the type "Syrian invasion". It is symptomatic because it demonstrates perception of refugees like uniform mass of dangerous people with similar vital ways, common beliefs, "foreign traditions and culture". Isn't this refusal to see real people in future TAF residents in Yagotyn, each of them having its own reason to leave the country and start into a quite dangerous trip in order to find a shelter stimulated such a wave of detestation? As hating a group is much easier. And vice verse, if considering the stories of "alive persons", in fact, it is not so complicated to understand them.
Samantha, from Ruskiy Krstur, Serbia, had to leave her motherland as she openly supported Ukraine. An accountant by profession she wrote much about Ukraine and the war against Russia in Facebook. "It had been lasting for two years since te beginning of Maidan. First, the threats through Facebook were not so serious. Then, even some familiar politicians told my family to depart for our safety. I had a security – policemen watched and warded me 24/7 – and I did not wish to live this way: we were not allowed to go outside. But the daughters had to visit the kindergarten, I had to go to work, and we were said – no, just stay inside. According to Samantha's words, she, her husband and children expected settlement in the Facility for a long time, as they had to undergo a complete medical examination. After life in personal house, it was difficult to get used to conditions of TAF with a great number of other people. However, now Samantha's husband has already been employed in the village close to Mukachevo: he learns Ukrainian language as well as works in the ware house. The woman is also going to find a job as soon as children will start attending the kindergarten.
Samantha tells that TAF residents receive a food pack every month. Noticing that something remains of what they failed to eat within the period for whatever reason, she organized the transfer of foodstuff to the ATO zone: "I wrote a note sticking it to the refrigerator in the kitchen with the words: tomorrow I will send a package with products to ATO if you have something unnecessary – bring it. Everybody gives something. Already the fourth month we send almost 40 kilograms."
Sheck from Ghana had a longer way to Mukachevo. First, he reached Libya, and then he travelled to turkey by sea in the boat reaching Ukraine. He tells not much about his country, where he lost his parents: conflict between the government and political groupings made him to flee the country as he feared of his life and health. Sheck has lived in the Facility for already three months seeking to find a job in the town, however, his present documents make it impossible: «Now I have only certificate, — he laughs. Four times a week the boy attends Ukrainian language classes, which are conducted in TAF. Sheck will need the language skills as he dreams of mastering engineering in Lviv Polytechnic Institute, and soon – look for some job in Ukraine. «What I wish — is to build up my life», — he says.
Syrian Diar came to the Facility in 2007 in the status of a person in need of subsidiary protection. His intention is to realize himself just here: get passport of Ukrainian citizen, buy land plot, build something and live the same way as others. He tells about horrible things occurring in his native country within already more than six years. "These fanatics since 2010 – already six years – they have done terrible things. People seeing it on TV – they are afraid of that. When being employed I was asked about the place of origin. I am afraid of telling that, but they still see it. "Where are you from? From Syria? O, my God, Have you been at war?" – "No, I was not. Do you see how old are me?".
Job search for TAF resident is a key problem. The direction of the Facility tells much about cooperation with Employment Centre and a range of enterprises forwarding them the lists of vacancies. They even arrange excursions to the manufacture. However, a cherished work to be corresponding to individual expectations and opportunities is hardly found by someone.
Excursions are arranged event to the manufacture units. However, desired job, that would meet individual expectations and capabilities, is found not by everybody. Language barrier becomes an obstacle as well as a lack of necessary skills or appropriate legal status, impossibility to combine work s with child care. Thus, employed persons are remembered here by names, and "graduates" of TAF gaining success are proud of: Afghan man that works as a correspondent in Odessa, citizen of Sri Lanka starting its business o tea sales in Beregovo and now he employees other resident of the Facility to his business, doctor- prosthetist, decision on refugee status as to him had not been made and finally he moved to America, however, there is a high need in a specialist of such a level in modern Ukraine nowadays. Their stories Petro Rozsola retells with specially gladness.
Life without work may be hardly called as a resort being imagined by those who accuse refugees in their unwillingness to work. Daily norm for foodstuff being received by the residents of TAF depends on the age, and approximately makes up 23-28 UAH per day. Humanitarian organizations, such as Red Cross or "Nika" provide clothes by UNHCR. Hygiene means and detergents are also received in the same way. So, education acquisition and search of worthy work – is a desirable way for those deciding exactly to stay in Ukraine.
For better adaptation the classes of Ukrainian and English languages, computer classes are arranged for the asylum seekers, and school of art-aesthetic education is organized for children: music, singing, painting, articles of stones. The social workers Karina Polyanska and Anna Boiko are engaged in their training. "We attempt to use those tasks, which will facilitate adaptation and forget the things happened before for those settling here ", – Karina tells. Except the psychologist availability, psychological aid and daily support is also in responsibility of social workers.
Apart from contradictory concept of the fact that refugees do not wish to work and simultaneously capture working places, there is a widespread myth about "exotic diseases" they take here. Certainly, I do not specify what these "exotic diseases" are. I have not come across them in my practice as well as the nurse of the Facility Snizhana Bilychko.  "I have been working here for a long time, about three years, and we had no any cases of such serious disease from Africa. They had the same illnesses as all: cold – it often happens as they adapt to new climate; children had varicella, as other children does, stomach disorders, especially, when part of them celebrate a month of Ramadan … it is natural, if you change nourishing regime", – Snizhana says.
Before settling, people undergo a primary medical examination at the place of their detention. So, they arrive to TAF already with appropriate documents and results of analysis, later on they have medical examination regularly in the Town Policlinics. X-ray is conducted once a year. There is a doctor, nurse and doctor of family medicine in the Facility. Each resident has a medical card – adults and children. Compulsory vaccination of children is under control. The children and adults are more or less provided with the means of first aid. If a person visits a specialist, necessary medicines are ordered.
The inhabitants of Yagotyn being much afraid of refugees, the ones from Mukachevo are not. Asking a question in the streets "Aren't you afraid of walking close to Refugee Centre" causes passerby's sincere wonder and misunderstanding. What shall we fear? No one was found to have any problems with them or to hear about such problems. The stories vary from positive to "I don't care".
According to the words of deputy head of TAF, no protests during the Facility opening were observed and local residents are disposed to them. "Mukachevo and Transcarpathia on the whole is a very multinational region. More than 24 nationalities reside here, we have no any xenophobia moods" – Petro Rozsola affirms. Social workers also assure about discrimination lack during employment or acceptance for education: "We have no any problems. Attitude is affable, people always ready to assist or make concessions as they understand that they did not just of no reason leave their native countries and appeared to be here. It concerns not only those attempting to be employed as well as those who attend kindergartens, schools".
According to Samantha's words, she and her family do not feel any prejudice on the part of local residents and wish to stay living in the region – probably, to move to Uzhgorod. Shek from Ghana also did not face any problems: "I suppose there are no bad people in here, as I have not had any problems ever". According to the words of Diyar from Syria not everything is well here. Almost since the beginning of 2007 he has resided in TAF, before it was much easier. Social-economic problems covered the country cause the worsening of their attitude to those differing from them: "Dollar rises, euro rises, and people become nervous – it is felt". And even now there are no special conflicts in many cases due to multi-culture and as a consequence, tolerant peculiarity of Transcarpathian region, Diyar may recall not one situation, when residents of the facility returned home having bruises. He marks that Mass Media has a great impact on public opinion formation: "In Kyiv the President addressed on the TV channel 1+1: we meet refugees with peace, we shall not have any problems. He said some words and the next day we go outside – and every one wishes to make pictures of us. The, two-three months later and again some Premier Minister will have a speech and vice verse: we do not need any refugees, we have economic problems anyway. The next day pensioners start looking at you asquint. What are you doing here? Why are you here?"
Almost ten years passed from the time when people with distinct skin color, traditions and religion settled close to Mukachevo residents, went to work, took children to schools or kindergartens – and here is a surprise, nothing has changed in the life of the town. Simultaneously, Ukrainians massively leave the country seeking better fate or become refugees, ths, as of June 2015, 900 thousand persons left Ukraine, and in 2014 applications for refugee status grant in to EU countries were submitted by 14 thousand Ukrainians. Many of them still live in the hostels similar to Mukachevo one expecting their issue to be solved and facing alike problems of the asylum seekers in Ukraine. So, threat from refugees is not larger than one created by Ukrainians, when they go to EU – and the only thing within the context of refugees we shall fear  – will be able the government provide these people with shelter, make discrimination impossible, ensure worthy conditions of their stay and perspectives in becoming equal members of society.
Source: http://ukraine.politicalcritique.org/2016/06/chi-boyitesya-vi-bizhentsiv/