03-09-2016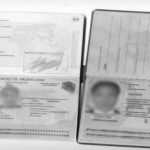 Two illegal migrants, using forged passport documents of the citizens of European Union, were were discovered by the staff of State Border Guard Service of Ukraine in Volyn region.
The men of Asian appearance travelled by train to Warsaw through the check point "Yagodyn" being in one coach. When passing border control, border guards established that the travelers' documents were false. They used the passports of the citizens of Germany and France in order to cross the border.
In order to set out all circumstances and examine the citizens' documents thoroughly these persons were taken from the train. Then, the border guards established that one passport had photo changed at the informational page, another one contained a full falsification of the page. Besides, there were also other forgeries in both documents. The border guards established that these persons did not enter Ukraine by these passports.
So far, the filtration measures are undertaken to find out all details of the infringement, about which the staff of National Police is also informed.
One more illegal migrant was apprehended by the detail of Mostytskyi Detachment 300 m before the state border on Poland. Information about the presence unfamiliar person in the border area was received by local residents. Detainee was the native of Azerbaijan. At the moment, this person is fined for the sum of 3400 UAH for attempt to cross the state border of Ukraine. Border guards made decision on his voluntary return back home.
Source:http://dpsu.gov.ua/ua/news/Dvo-cholovikiv-aziatskoi-zovnishnosti-predyavili-na-kontrol-pidrobleni-pasporta-vropeyciv/