30-09-2016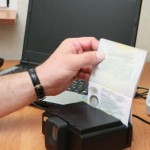 The staff of State Border Guard Service revelaed the citizen of Cote d'Ivoir, who intended to get to one of EU countries using someone's document of the French citizen.
Thus, the border guards of Lutsk Detachment detected document in one of the passengers of the bus Rivne-Warsaw, ehich belonged to a pseud-bearer during check in in the International Check Point for automobile traffic "Yagodyn". The person was invited to the service office for calrification of all circumstances and preparation of procedural documents.
When verification measures were performed it was established that it was 23-year-old citizen of Cote d'Ivoir arriving to Ukraine in March of the current year by means of personal foreign passport and short-term visa for seven days.
According to his words he arrived for casting to Ukrainian Football Club and made an advance payment of 1 200 euro to the agent. however, coming to another country he uderstood to be cheated/ Staying longer in Ukraine he spent all his money and could not buy any ticket to return back home. Also, his passport was stolen. And soon, he got acquainted with the citizen of France, who sent him someone's passport to be used when reaching European Union.
At the present moment, procedural documents are prepared as to the foreigner for his attempt to cross the state border in illegal way. Decision is to be made regarding his compulsory return to his homeland.
Source:http://dpsu.gov.ua/ua/news/prikordonnikami-viyavili-psevdofrancuza-yakiy-nachebto-hotiv-buti-profesiynim-futbolistom-v-ukraini/