29-09-2016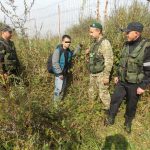 Border guards of Mostyskyi Detachment stopped a man of Asian appearance near the crossing point for rail way road who tried to jump over the checkpoint's fence. Detainee was 29-year-old citizen of China, which came on the eve of Russia legally, however, having no Polish visa he decided on his own to get to Western Europe. The man explained that he deliberately bypassed the checkpoint and considered this fence to be the border on Poland, and the least he expected to be stopped by the border guards. For an attempt to breach the state border the citizen was called to administrative responsibility. Later a court decision will force a decision on citizen's deportation from Ukraine.
One more foreigner, the citizen of Turkey, also trying to get to Poland in illegal way, was stopped in the suburb of the checkpoint "Shegeni". Border detail detected the man moving towards the border. Reaction group immediately arrived to the place detaining the violator just at the border. It was the citizen of Turkey without any documents. The man was apprehended in administrative order for identification and calling to responsibility.
In other case, border guards of Mukachevo detachment stopped the "traveler" overcoming the barrage fence in order to get to Hungary. The foreigner having no documents explained that he was the citizen of India and intended to improve his life conditions in one of EU countries.
So far, the man is delivered to Border Department to perform filtration measures and prepare appropriate administrative protocols.
Source:http://dpsu.gov.ua/ua/news/prikordonniki-zupinili-troh-vihidciv-z-kitayu-indii-ta-turechchini-yaki-mali-namir-nezakonno-potrapiti-do-s/