06-12-2016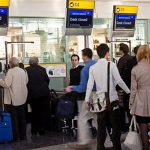 Authoritative German Publishing House has published information dedicated to the stunning scales of labor migration from Ukraine to European Union. Die welt provides statistic data, from which it is followed that labor force outflow from Ukraine has significantly increased after the victory of so-called "dignity revolution". Upon that, qualified staff is purposefully enticed from Ukraine to EU. Those, fearing massive resettlement to EU, supposing be Muslims, should pay attention to the statistics in permissions issue for citizens' stay from so-called third countries. Here, explicit and massive migration shift is observed: migrants arrive to EU from entirely Christian, European country – Ukraine. Last year almost 500 000 Ukrainians were granted with permission to stay within the countries of European Union.
A look at the past few years demonstrates that the number of new arrived persons from Ukraine is steadily growing: in 2012 – 150 thousand Ukrainians got over to EU, in 2013 -240 000, and in 2014 the number of immigrants from Ukraine has already reached 300 thousand persons. It is worth mentioning that most of them – were not refugees. In 2014, a total of 14 thousand Ukrainians submitted applications for refugee status and most of them were rejected. Instead, labor force emigrates from Ukraine, which is especially pleased and purposefully drawn by the eastern European countries.
The number of migrants from Ukraine may be compared only with the flow from Arabian countries. It is hardly known by anybody, and those who are in the know – do not care about it much. Conversely, v4 countries, namely Poland, Hungary, Slovakia and Czech Republic consciously assist in resettlement from the East regarding rescuing of "Christian West" in it against the background of Muslim emigrants' migration flow strengthening. Thus, for example, program on qualified staff attraction from Ukraine was elaborated by Czech Republic, where over than 100 000 Ukrainians have already resided. To be specific, according to the data of last registration – 107 000. Hungary has also modified its laws on the sly to facilitate the life of the recruitment workers from Ukraine in its country. And in Poland, as to government data, at least one million of Ukrainians live and work there. As of 2014, 230 000 Ukrainians were registered in Italy, almost 130 000 – in Germany, almost 100 000 – in Spain and 40 000 – in Portugal.
However, it is difficult enough for Ukrainians to get to Great Britain. Ukrainian Embassy in London calculates the number of Ukrainians in the United Kingdom to be 30 thousand. Thus, it is evident that there is active illegal migration of Ukrainians to Great Britain – some weeks ago a group was revealed to smuggle about 6000 Ukrainians through Ireland, who had forged Polish passport.
"The newest data" on resettlement, as a rule, refer to the end of 2014. Though, the number of migrants from Ukraine has especially increased since 2015, which is suggested by 500 000 issued permissions to Ukrainians for staying in EU countries. However, how many Ukrainians are there nowadays?
According to rough estimation, there are no more than two millions. As of the end of 2014, 849 000 Ukrainians were officially registered in EU. In addition, Poland only in 2014 and in the first six months of 2015 issued 770 000 short-term permission for Ukrainians' stay being occupied in the seasonal jobs. As to experts' opinion, many of these persons stayed in Poland. And finally, no one knows the number of Ukrainians employed in EU illegally.
Add 500 000 of newly arrived persons in 2015. Undoubtedly, in 2016 more thousands joined them – it is such a trend, but there is no any statistic yet. Besides, Poland issues 700 000 short-term permissions for Ukrainians' stay just in 2014 and in the first six months of 2015, who were employed in seasonal jobs. As to experts' opinion, many of these persons stayed in Poland. And finally, no one knows the number of Ukrainians working in EU illegally.
There is a shift of mass population in Europe: young, capable persons from countries like Poland and Hungary, move to more wealthy EU countries and further to the West, North, and millions of Ukrainian fill in their niches. However, western Mass media focusing upon Arab-African migration have hardly paid attention before to this trends, – Die Welt sums up.