02-02-2017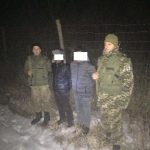 Border guards of BD "Luzhanka", Mukachevo Detachment, detained five illegal immigrants attempting to sneak across the border on Hungary and subsequently enter the EU.
Receiving current information, border guards detained one of the "travelers" near the village of Dyyda, Beregovo district, at about 1 a.m.. The detainee had no any documents and reported to be  the citizen of Morocco.
Two more persons undocumented were apprehended by the border guards in the morning. While patrolling the border, officers noticed two travelers overcoming the barrage fence and trying to  cross the Ukrainian-Hungarian border in illegal way. At a distance of 150 meters before the state border, the border guards stopped the foreigners who introduced themselves as the citizens of Nepal.
Soon, reaction group arriving immediately to the place to implement operative – searching activities, in the suburb the village Astey, Berehovo district, arrested two men without documents. The detainees appeared to be the citizens of Egypt.
Currently, protocols on administrative violations are drafted and filtration measures are undertaken as to the foreigners aged between 24 and 44, who are delivered to the Department of Border Service "Luzhanka." Action on determining persons involved in the illegal trip of migrants.
Source:http://dpsu.gov.ua/ua/news/prikordonniki-zatrimali-5-nelegalnih-migrantiv-iz-marokko-nepalu-ta-giptu/