25-02-2017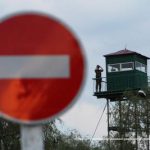 Border guards of Lutsk Detachment detained two foreigners who followed in Poland in the international checkpoint "Yagodyn-railway station". It turned out that in order to cross the border they planned to use fake and someone's passports.
The violators were caught at night at the time of check in to the train "Kyiv – Warsaw". Border guards suspected one of the passengers as to his pasport belonging. In a result of document in-depth study border guards found that dark-skinned woman who later introduced as a citizen of the Republic of Mali, tried to leave the Ukraine by German foreign passport. Another traveler, a Turkish national, who followed in a nearby car, tried to cross the border using partially fake passports with information page replaced.
So far, the circumstances are verified, the travelers are expected to bear administrative responsibility for attempt to cross the state border in illegal way and for knowingly use of forged documents.
Source:http://dpsu.gov.ua/ua/news/dvo-migrantiv-z-mali-ta-turechchini-ihali-potyagom-vikoristovuyuchi-pidrobleniy-ta-chuzhiy-dokumenti/