26-02-2017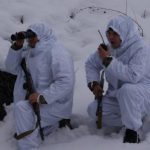 State Border Guard Service of Ukraine performing its tasks on state border protection continues to cooperate closely with the border guards of the countries bordering on Ukraine.
Thus, as a result of such cooperation and effective interaction Ukrainian border guards together with Polish ones detained four border violators.
At first the border guards found alarm unit operated in Mostyskyi Detachment. Without wasting time, the border guards of BD "Krakovets" reported Polish border guards serving in front of this border area. Soon, during an implementation of joint searching activities and information exchange, the officers detected 4 persons introducing themselves to be the citizens of India.
So far, filtration-verification measures are continued as to the violators and establishment of the circumstances on illegal border crossing.
Source:http://dpsu.gov.ua/ua/news/vnochi-v-rezultati-vzamodii-ukrainski-ta-polski-prikordonniki-zatrimali-4-gromadyan-indii/