03-03-2017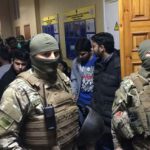 Measures directed on prevention and counteraction to illegal migration have been recently performed in Odessa by the border guards from the subdivisions of Southern Regional Administartion of State Border Guard service together with the representatives of State Migration Service of Ukraine in Odessa region.
In a result of efficient cooperation, the border guards and staff of Migration service revealed 120 citizens of India, 1 –from Iraq, 1 – Turkey and 2 citizens of Pakistan residing in Odessa with the violation of the rules of foreigners' stay and registration within the territory of Ukraine.
Mentioned persons were called to administrative responsibility in accordance with the Part 1 Article 203 of Administrative Infringement Code of Ukraine and fined for the sum of 510 UAH each.
Source: http://dpsu.gov.ua/ua/news/video-prikordonniki-ta-pracivniki-migraciynoi-sluzhbi-viyavili-v-odesi-ponad-120-inozemciv-yaki-nezakonno-prozhivali-na-teritorii-ukraini/