04-03-2017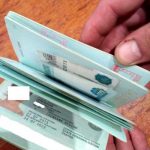 Vietnamese citizen attempted to bribe a border guard of Odessa Detachment in Odessa Airport during the border control of passengers for the flight "Istanbul-Odessa". Vietnamese citizen arrived to Odessa with his family, all family members had legal basis for unobstracted crossing of the state border of Ukraine. But the family head believed that his child being the citizen of Ukraine would not allowed to enter Ukraine, as he had only a birth certificate and not a passport. Thus, he decided to put the bribe in his passport, in amount of 400 UAH, which he handed to the border inspector USD 400.
Another foreigner, a citizen of Uzbekistan, tried to bribe border patrol of Lugansk Border Detachment. The woman arrived at the checkpoint "Prosyane", but during the border control and clarification of her arrival purpose to Ukraine, she offered to border guards the bribe in amount 1000 RUR. Obviously, thus, the citizen intended to cross the state border of Ukraine in order to extend the term of foreigner registration in the neighboring country.
The border guards refused from the proposed remuneration. The fact on giving illegal reward was fixed in the established order. The police was informed about crime commitment as to the signs of the Art.369 of Crime Code of Ukraine "Offer, promise or giving illegal  advantage to the officer" informed the police.
Source: http://dpsu.gov.ua/ua/news/gromadyani-vtnamu-ta-uzbekistanu-namagalisya-pidkupiti-spivrobitnikiv-derzhprikordonsluzhbi/