11-05-2017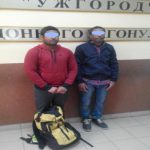 Border guards of BD "Cherepivka", Chernivtsi Detachment detained three migrants from Syria due to available operative information. The men being without documents were apprehended in the populated area. Besides, there was a taxi driver caught, who gave a lift to the "travelers". According to the words of detainees they intended to cross the state border illegally and reach Romania, and then settle in one of EU countries. Currently, three citizens of Syria are sent to Border Department to establish the circumstances and draw up administrative documents.
Two travelers, according to their words – citizens of India, were also revealed by the staff of Border Department "Uzhgorod", Chop Detachment together with the workers of Migration Service. The foreigners staying in one private apartment in Uzhgorod were unable to confirm the legality of their stay within the territory of Ukraine and had no any documents.
So far, they are hold in the Temporary Detention Facility, filtration measures continue.
Source:http://dpsu.gov.ua/ua/news/v-ramkah-operacii-kordon-2017-prikordonniki-zatrimali-7-nelegaliv/