11-05-2017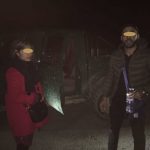 The military men of Chop Detachment detained five foreigners violated the legislation of Ukraine on border issues. Two citizens of India, being unable to confirm the legality of their stay within the Ukrainian territory, in the frames of special operation "Border 2017" together with the staff of National Police and State Migration Service. In order to establish the circumstances of the violation, the persons were delivered to Border Department "Uzhgorod", then, after their identification they were called to administrative responsibility for border regime break.
Two more foreigners intending to get to the countries of European Union were apprehended by the border guards at night in the area of BD "Velykyi Bereznyi". In the course of information realization received from Operative-Searching Department, the militaries detained two citizens of Algerian together with the mobile group of Chop Border Detachment in the distance of 1.5 km before the border line. The man and woman looked for the route towards Slovakia, when their intentions were stopped by the border guards.
Border patrol of Ukrainian-Slovakian border stopped a citizen of Russia (woman) in the morning, who intended to cross the border line beyond the check point. Woman's movement was fixed by the security cameras, upon which border guards of BD "Velykyi Bereznyi" were notified by Slovakian colleagues in time.