16-05-2017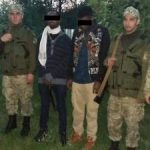 Complex actions on joint special operation "Border-2017" continue at the state border of Ukraine. The next violators were appreheneded in Lviv region. Thus, during monitoring of border area the border guards of BD "Shegeni", Mostytskyi Detachment, noticed the signs of engineer constructions overcoming. Soon, the law enforcers apprehended a man, 1979 YOB, who had passport of Turkish citizen. In the course of verification it was established that some days ago he legally entered Ukraine arriving by plane, however, he decided to continue his trip to the countries of European Union in illegal way.
After a while, Subdivision on duty received information from district inspector of Border Service about tow unfamiliar persons of African appearance being noticed by local residents when migrants attempted to cross the border on Poland. Detainees were men, 1987 and 1992 YOB, the citizens of Ethiopia. One of them had Certificate on Temporary Stay in Ukraine, the other – arrived to Kyiv officially in the beginning of May.
In both cases, documents on administrative infringement were prepared with regard to attempt of illegal cross of the state border of Ukraine. Decision will be made by the court.
Source:http://dpsu.gov.ua/ua/news/na-lvivshchini-prikordonniki-zatrimali-gromadyanina-turechchini-ta-2-gromadyan-efiopii/