20-05-2017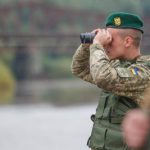 Four illegal migrants getting through to EU countries were detained by the staff of State Border Guard Service in Transcarpathian and Lviv regions. The first "travelers" were stopped at the approaches of BD "Guta", Chop Detachment. They left to reach 500 m to the border. The violators were 2 men from Bangladesh. Illegal migrants did not have any documents. So far, administrative protocols were drawn up for these persons and all circumstances were established. Also, persons are under establishment assisted in illegal trip.
Two more migrants were detained at the border on Poland by the border guards of Mostytskyi Detachment. Receiving information about appearance of unfamiliar persons in border zone the detail detained 2 citizens of Turkey 100 m before the border. Checking the area the militaries did not reveal any violations. All details of violators' trip are established.
It will be recalled that at night border guards of Chop Detachment together with representatives of National Police and SSU in Transcarpathian region apprehended five citizens of Vietnam being transported by the car by Ukrainian. According to driver's explanations he took the foreigners on the road and for some amount of money had to deliver them to the village of Dubrynychi close to Ukrainian-Slovakian border.
The staff of State Border Guard Service has revealed and detained almost 130 illegal migrants within the "green" area since the beginning of the year.
Source:http://dpsu.gov.ua/ua/news/na-zakarpatti-zatrimali-nezakonnih-migrantiv-z-bangladeshu-ta-turechchini/