28-05-2017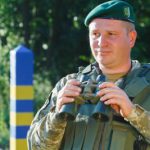 During the night the staff of State Border Guard Service apprehended 6 violators attempting to cross the border in illegal way. They were the citizens of Turkey and Moldova. Four citizens of Turkey were detained in Bukovyn in the morning. Information about violators' intention was received by the border guards of Chernivtsi Detachment from operatives. The group of travelers, consisted of a woman and three children, was stopped 500 m before the border. They did not have any documents. Currently, further verification measures are performing as well as persons involved in the case are established, who assisted the migrants in their illegal trip.
One more Turkish was detained by the border guards of Lviv Detachment. He was revealed at night by means of nigh vision device. The violator was just trying to overcome the barrage fence in order to get to Poland. It will be marked that it was not the first trip of the violator; he had already been detained by the border guards.
The migrant from Moldova was caught in Odessa region by the border guards of BD "Chorea", Podilskyi Detachment. He also got to Ukraine at night and was noticed by the border detail by means of technical means of border control.
Source:http://dpsu.gov.ua/ua/news/protyagom-nochi-prikordonniki-zatrimali-6-porushnikiv-z-turechchini-ta-moldovi/