10-06-2017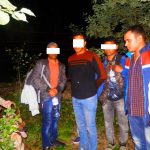 Group of illegal migrants was apprehended at night at Ukrainian-Polish border by the staff of State Border Guard Service of Ukraine in the frames of final active phase of operation "Border-2017".  Information about unknown persons appearance in the border area of Lviv region was received by the border guards of Operative Searching Department beforehand. In the course of information realization the staff of BD "Rava-Ruska", Lviv Detachment, detained 6 undocumented persons nearby the border. These were 5 citizens of Bangladesh and 1 citizen of Comoro Islands. They made their way beyond the check point in the direction to border line along the railway. Detainees were delivered to Border Department to clarify the circumstances of the infringement and establish possible concerned persons and prepare administrative documents.
In Transcarpathia, border guards of BD "Guta", Chop Detachment, also detained 2 citizens of India close to the border due to information received from operative staff of SBGSU. The violators were stopped in the suburb of the village Onokivtsi, Uzhgorod district, Transcarpathia, corresponding documents were drawn up.
Besides, border guards have established that these persons were detained a month ago by the border guards of Chop Detachment. Currently, illegal migrants are kept in Temporary Detention Facility. The cases are forwarded to the court.
Source:http://dpsu.gov.ua/ua/news/prikordonniki-zatrimali-8-gromadyan-bangladesh-komorskih-ostroviv-ta-indii/