02-08-2017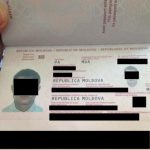 During operative-investigation actions, in the frames of preventive operation "Migrant" the operative agents of SBGS established the actual place of temporary residence of foreign citizens in Sumy (potential illegal migrants). Authorities were informed on this point immediately.
The, in the course of information realization the joint interagency group composed of National Police and ASMS in Sumy region found 5 citizens of Moldova in a private house. Two foreigners, 1998 and 1999 YOB, had no any documents, and two more, 1991 and 1993 YOB, exceed their stay term in Ukraine. Currently, two violators were called to administrative responsibility, actions on undocumented persons identification continue.
Also, in the course of further actions the law enforcers established the owner of the house, where Moldavians stayed. Protocol as to Article 206 of Administrative Infringement Code was drawn as to Ukrainian citizen "Violation of the order on providing the foreigners and stateless persons with dwelling, transport and assistance in other services."  The sanction of the Article stipulates for responsibility in the form of the fine in the amount of 5100 to 8500 UAH.
Source:http://dpsu.gov.ua/ua/news/u-sumah-prikordonniki-viyavili-5-gromadyan-moldovi-yaki-nezakonno-perebuvali-na-teritorii-ukraini/