03-08-2017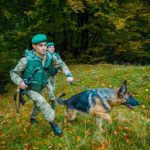 The staff of State Border Guard service detained 1059 illegal migrants during six month of the year 2017. Of them 314 persons were detained for illegal border cross, the rest – for violated stay rules of Ukraine by the foreigners and so on.
It is worth mentioning that the greatest number – 717 illegal migrants were detained at the border on Moldova. At the EU borders there were 272 illegal migrants detained, the most often they were caught at the border on Slovakia, Poland, Hungary and Romania.
In accordance with the statistics, there were citizens of Moldova, Russia, Georgia, Turkey, Azerbaijan, Bangladesh, Vietnam, India and Armenia among the illegal migrants.
Besides, almost 2 thousand potential migrants were not admitted to Ukraine.
Source:http://dpsu.gov.ua/ua/news/za-pivroku-prikordonniki-zatrimali-bilshe-tisyachi-nezakonnih-migrantiv/