08-08-2017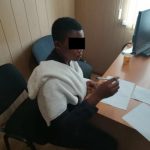 Border guards of Belgorod-Dnistrovskyi  Detachment detained three foreigners attempting to get illegally to the Republic of Moldova.
Thus, the border guards of BD "Stepanivka" were observing the appearance of thee unknown persons in the evening by means of thermal imager located on the tower of optical-electrical surveillance. They moved in the direction of Ukrainian-Moldavian border. Unknown persons decided to separate in order they be caught harder. The reaction group arrived to the place immediately. Later on, all three were detained close to the state border.
Detainees were African women aged 26, 29 and 31, being the migrants from the Republic of Cameroon. One of the women was pregnant. According to the offender's words, they intended to get ti one of the countries of European Union seeking better life conditions.
Currently, the law enforcers continue performing filtration and other measures on establishment of all circumstances of the infringement.
Source:http://dpsu.gov.ua/ua/news/na-odeshchini-prikordonniki-zatrimali-troh-nelegalnih-migrantiv-z-kamerunu/