08-08-2017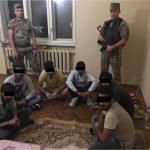 In the frames of operation "Migrant" the border guards of Mukachevo Detachment together with the staff of National Police revealed a group of illegal migrants intending to cross the border in illegal way.
Six men without any documents concealed in a private house in the town of Mukachevo. The detainees informed to be the citizens of India.
Aiming to perform filtration measures and establishment of all circumstances of illegal trip the foreigners were delivered to the Temporary Detention Facility of Mukachevo Border detachment.
Legal assessment of illegal migrants' actions will be provided by the court.
Source:http://dpsu.gov.ua/ua/news/na-zakarpatti-pravoohoronci-zatrimali-nelegalnih-migrantiv-z-indii/