10-08-2017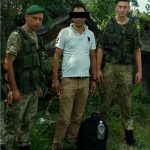 The staff of Border Department apprehended illegal migrants at the border on Poland, Hungary and Moldova – three Hindus and two Moldavians.
Thus, the border guards of Mostytskyi and Chop Detachments detainees three citizens of India intending to got to Poland and Hungary in illegal way. These persons had foreign passports. So far, the violators stay in the Temporary Detention Centre, verification actions go on.
In Bukovyn, the border guards of Chernivtsi Detachment stopped two citizens of Moldova, who crossed the state border in illegal way, during their patrolling the area. The foreigners made their way to Ukraine.
The protocols on calling to administrative responsibility were prepared as to all 5 violators in accordance to Part 2 Article 204-1 of Administrative Infringement Code of Ukraine "Violation or attempt to violate the state border". The cases are forwarded to the court.
Source:http://dpsu.gov.ua/ua/news/prikordonniki-zatrimali-5-nelegalnih-migrantiv-z-indii-ta-moldovi/