31-08-2017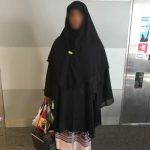 The staff of Separate Check Point "Kyiv"detected two foreigners looking for better life travelled with forged documents not belonged to them. The both cases were fixed in the capital airport of Boryspil.
The border guards of SBGS revealed a passport of the citizen of Great Britain in the citizen of Somalia traveling by transit via Kyiv, which did not belong to her. In the course of the interview with the woman the border guards established that British foreign passport was bought for $ 10 000 in Somalia. The foreigner was travelling by the flight "Dubai-Kyiv-London". Currently, the woman is expecting for return by a back flight to Dubai.
One more violator was apprehended by the border guards when he attempted to depart to London. The man used Italian passport for his trip. In the course of filtration measures the law enforcers established that the foreigner was the citizen of Turkey. Also, upon document examination the signs of non-established pattern were revealed. The man told that he bought Italian foreign passport in Istanbul for €500. The citizen will be also returned by a back flight.
Source:http://dpsu.gov.ua/ua/news/u-borispoli-prikordonniki-zatrimali-dvoh-inozemciv-z-problemnimi-dokumentami/