02-09-2017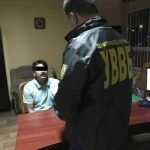 The staff of State Border Guard Service documented an attempt of an illegal benefit of $ 100, which was offered by a foreigner, a Romanian citizen. He wanted to pay the border guards of the Chop Detachment to cross the border without any obstacles in the checkpoint "Tisa" and not to make a decision in non-admission to the territory of Ukraine.
Also 3 thousand RUB were offered by the citizen of Tajikistan to the border guards of Kharkiv Detachment in the railway check point "Kharkiv Railway". The gratuity was proposed for "problem free" entrance to Ukraine.
Besides, as it was informed before, the citizen of India was rejected in crossing the state border of Ukraine in the airport Boryspil as he attempted to bribe the senior in charge of the border details. The foreigner offered $200 for unobstructed cross of the border by him and his three foreign friends.
In all cases the staff of SBGS refused to accept the bribes and registered the violators in the Unified Register of Pre-Trial Investigations in accordance with the Part 3 Article 369 of CCU "Offer, promise or presenting improper advantage to official".
Source:http://dpsu.gov.ua/ua/news/prikordonniki-vidmovilisya-u-troh-vipadkah-vid-proponuvannya-habariv-inozemcyami/