02-09-2017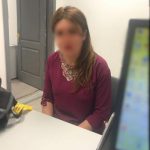 While performing verification of the documents the staff of check point "Kyiv" revealed foreign passport not belonging to a person presented it. The incident happened in the international airport Boryspil. Coming for the passport control the citizen of Iraq provided passport document of the Great Britain's citizen for verification. The foreigners traveled via Kyiv and then she intended to get to London. The pseudo British was revealed at once at the passport control line. In the course of the interview, the woman told that the she bought the passport of the citizen of Great Britain for $ 20 000. So far, the woman is returned by a back flight.
It is worth to remind that for already two days the similar cases are fixed in the capital airport. Thus, the citizen of Iraq had invalid foreign passport. The foreigner was travelling with the passport of German citizen. Recently, the staff of check point "Kyiv" also revealed two citizens of Somalia and Turkey being in the search of better life they travelled with forged document. Te foreigners informed that they purchased foreign passports in Great Britain and Italy for $10 000 and € 500 correspondingly.
In general, during the previous month the border guards of Separate Check Point "Kyiv" detected about 60 persons having invalid passport and more than 10 persons attempting to cross the border using forged or someone's passports.
Source:http://dpsu.gov.ua/ua/news/gromadyanka-iraku-sprobuvala-obmanuti-prikordonnikiv-v-aeroportu-borispil/