03–09–2017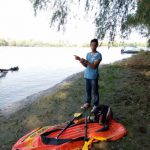 The border guards found a single rubber boat with one person on board, which was moving downstream towards the Romanian coast in the region of 41 km of the Danube River, about 100 m from the Ukrainian coast. The district inspector of the Border Guard Service immediately informed the border department on this point and already in five minutes the sea border guard boat arrived to find offender. However, they failed to catch up the skillful rower. The border guards noted that the rubber boat had reached the Romanian coast and immediately informed their Romanian colleagues.
Soon, the Romanian Border Police detained the man floated on a specified boat. It was a young man of the Eastern appearance, looking like 17-18 years old, without documents. He had a purse with money (as to previous establishment – Indian rupee) and a plastic bank card.
The Ismail border detachment initiated a border-representative meeting with the Romanian part in order to perform a joint investigation upon this fact. During the meeting, it was learned that the detainee was a citizen of India, born in 2001. He reported that on September 1, he left Turkey by one of the ships, whose name he forgot. He aimed to get illegally to Serbia, and then to Germany, for which he paid $ 400 to the smuggler. When the ship went to the Danube, the traveler changed for the rubber boat and reached the Romanian coast.
Source:http://dpsu.gov.ua/ua/news/gromadyanina-indii-na-gumovomu-chovni-posered-dunayu-viyavili-prikordonniki-izmailskogo-zagonu/