04-12-2017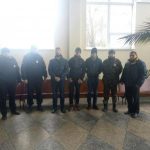 During inspection of the regular buses at the Novovolynsk town bus station the joint detail composed of the district inspector of BD "Morozovychi" and "Ambukiv", Lviv Detachment, as well as the representatives of National Police in Volyn region found the citizens of Libya, Syria and Algeria, two of which violated the stay rules on the territory of Ukraine.
Concerning the citizens of Libya and Syria the protocols on administrative infringement was drafted under the Part 1 Article 203 of AICU ( violation of the stay rules in Ukraine and transit pass through the territory of Ukraine by the foreigners and stateless persons).
Mentioned persons were handed to the staff of State Migration Service of Ukraine in Volyn region.
In total, the border guards of Lviv Detachment together with the representatives of State Migration Service and National Police revealed 396 offenders of migration legislation in the frames of target preventive actions titled "Migrant" and the fine for the violation made up 240 thousand UAH.
Source:http://dpsu.gov.ua/ua/news/cilovi-profilaktichni-zahodi-migrant-doboviy-dorobok/