16-12-2017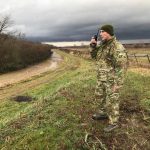 The border guards of Chop Detachment detained 7 citizens of Afghanistan and Bangladesh near the state border of Ukraine in the late evening.
The district inspector General of BD "Guta" has received information from the operational staff of the State Border Guard Service about the appearance of citizens of Asian appearance, presumably illegal migrants. After a while, the police inspector found and arrested 7 men, 4 – Afghan citizens and 3 citizens of Bangladesh. The citizens did not have any identity documents.
Currently, the detainees were taken to the Border Guard Division, materials on administrative violations were drawn up as to the attempt to violate illegally the state border of Ukraine.
Also, the activities continue on establishment of the persons involved in the organization of illegal immigrants smuggling across the border. A decision on the case against the foreigners will be made by the court.
Source:http://dpsu.gov.ua/ua/news/prikordonniki-zatrimali-grupu-nelegalnih-migrantiv-z-afganistanu-ta-bangladesh/