16-12-2017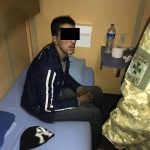 The border guards detained illegal migrants in the checkpoint "Illichivsk Fishing port" at the time of ship  registration "Sea Partner" arrived from Turkey.
Information about two unknown persons was received by the border guards from the truck driver. He saw two men, approximately 30 years of age, cutting through the awning of the trailer and trying to escape to the port. Both illegal immigrants were detained almost in 5 minutes. Illegal migrants were the citizens of Morocco.
At this time, the foreigners were returned to the ship and sent back to Turkey.
Source:http://dpsu.gov.ua/ua/news/na-odeshchini-prikordonniki-zatrimali-dvoh-marokkanciv/