01-01-2018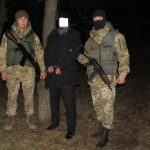 Tonight the border guards of Chop Detachment stopped three foreigners at the checkpoint "Chop-railway station». While checking 3 Turkish citizens, who were going to leave Ukraine, the border guards discovered forged passports. In particular, the pages with constituent data and forged signs of SBGS were revealed in the documents of husband, wife and their 3-year-old child. The foreigners traveled by train to Vienna. Currently, the persons are detained for up to 3 days to ascertain the circumstances of the offense.
Uzhhorod Police Department in the Transcarpathian region sent a statement about detected signs of criminal offenses stipulated by the Article 358 of the Crime Code of Ukraine (Falsification of documents, seals, stamps and forms, their sale, use of forged documents). It should be noted that the foreigners arrived by valid foreign passports of citizens of Turkey to Ukraine.
Also, tonight and last night in Lviv oblast and Bukovyn the border guards detained 2 illegal migrants who were planning to cross the border on EU countries at the "green border". The border guards of BD "Pavlovychi", Lviv Detachment detained a citizen of Syria 50 meters before the border on Poland.
And the border guards BD "Cherepkivka", Chernivtsi Detachment according to the information given by local inspector of the Border Guard Service, the citizen of Algeria was stopped 200 meters before the border line on Romania.
Both foreigners were without documents. The protocol was drawn up as for both foreigners with regard to their attempt to cross illegally the border. Currently, they are kept in Temporary Detention Facility.
Source: https://dpsu.gov.ua/ua/news/prikordonniki-zupinili-3-turkiv-siriycya-ta-alzhircya-pid-chas-sprobi-nezakonnogo-peretinu-kordonu/