09-01-2018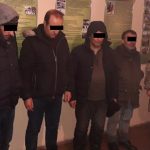 The border guards of Mostytskyi Detachment detained four citizens of Turkey who were trying to cross illegally the border on Poland.
Thus, the district inspector of BD "Lopushanka" in Lviv region received a call from an inhabitant of one of the villages of the border area and reported about four unidentified people to be seen near the border. The border guards started the search and soon the reaction group found four citizens of Turkey, 400 meters before the state border. Three men had passports, and one of them had no any.
The violators were detained by law enforcers in the administrative order and draw up the documents as of the case on administrative offense. The decision in the case concerning their attempts to cross illegally the state border of Ukraine will be made by the court.
Source:https://dpsu.gov.ua/ua/news/u-gorah-na-kordoni-z-polshcheyu-zatrimali-4-nelegaliv-iz-turechchini/