16-01-2018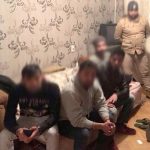 The staff of operational units of the Southern Regional Department of SBGSU together with the representatives of the State Migration Service and Head Department of National police in the Odessa region carried out a number of activities in Odessa to identify the violators of immigration laws.
As a result of joint actions of law enforcers 5 illegal migrants, citizens of India, were detected in the city. All identified foreigners stayed in Ukraine violating the migration legislation in force.
In addition, during the conversation, the policemen learned that the violators intended to get to EU countries in future.
The foreigners were detained in order to make a further court decision.
Source:https://dpsu.gov.ua/ua/news/prikordonniki-zatrimali-v-odesi-5-nelegalnih-migrantiv-iz-indii/