20-01-2018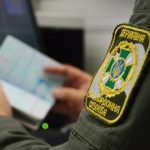 Two citizens of Iran trying illegally to get into Armenia were revealed by the border guards of Separate checkpoint "Kyiv" at the Boryspil Airport.
Forged passports and ID-cards of Greek citizens were detected by the border guards during documents verification belonging to two passengers of the flight "Tehran-Kiev", who traveled by transit via Ukraine. The foreigners planned to get to Armenia by the flight "Kiev-Yerevan" later on.
Currently, the false documents are confiscated. The Iranians will be sent by a return flight.
Source:https://dpsu.gov.ua/ua/news/dva-gromadyanina-iranu-namagalisya-potrapiti-do-virmenii-po-pidroblenim-dokumentam/