21-01-2018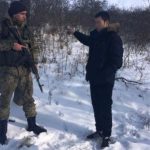 The local inspector of the BD "Starytsya", Kharkiv Detachment, received information from a local resident about the discovery of a suspicious person moving from Russia to Ukraine.
A few minutes later the border guards found and detained the citizen of Russia, which illegally crossed the state border.
The detainee immediately appealed to the border guards with a statement on refugee status granting on the territory of Ukraine. And before considering his request the border guards found that he needed urgent medical care because of his frozen limbs.
The citizen of the Russian Federation was immediately taken to a warm room and emergency was called.
Within minutes the paramedics arrived to the check point and made diagnose: "Frostbite of hands and feet." The detainee being accompanied by soldiers of the Border Service Department was taken to the district hospital.
The Head Department of State Migration Service of Ukraine in Kharkiv region was informed about the fact of the citizen of the Russian Federation appealing on refugee status granting. Currently, the person is hospitalized under guard.
Source:https://dpsu.gov.ua/ua/news/nepidgotovleniy-bizhenec-prikordonniki-harkivskogo-zagonu-zatrimali-porushnika-derzhkordonu/