06-02-2018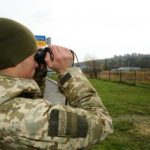 For the past day, the staff of SBGS revealed a foreigner intending to cross illegally the state border of Ukraine.
Thus, the border guards of BD "Migovo", Mostyskyi Detachment noticed the movement of an unknown person during check in. A foreigner was detained 400 meters before the state by the border police, who had the passport of Turkish citizen.
Concerning the last violator the protocol was drafted according to the Article 204-1 of the AICU (Illegal cross or attempt of illegal cross of the state border of Ukraine). The case is forwarded to court.
Source: https://dpsu.gov.ua/ua/news/na-lvivshchini-zatrimano-nelegalnogo-migranta-z-turechchini/