08-02-2018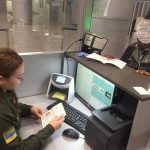 Three foreigners with false documents were revealed by the staff of SBGS at the airports of Odessa and Lviv.
The law enforcement authorities had some doubt as to the validity of the passport document of one of the citizens in the international airport "Odessa" at the time of passengers' registration for the flight "Istanbul – Odessa». As it was found by the border guards of Odessa Detachment, the violator was a citizen of Bangladesh, for passport control he provided false document the Indian citizen.
Besides, the border guards doubted also in the validity of the documents submitted by two tourists, citizens of the Republic of the Congo and Turkey, at the international airport "Lviv" during the registration of passengers of the flight "Istanbul-Lviv" . According to the results of in-depth verification, the law enforcers exposed a complete falsification of residence permit of Ukraine and of special passport for foreigners.
The notification was forwarded to the National Police as to the detection of the criminal offense signs under the Article 358 of Crime Code of Ukraine (Forgery of documents, seals, stamps and forms, their sale, use of forged documents). The foreigners are now waiting for return by a back flight.
Source: https://dpsu.gov.ua/ua/news/pidrobleni-dokumenti-zipsovana-podorozh/