11-02-2018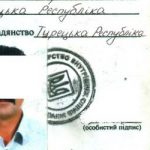 Foreigner is prohibited to enter Ukraine for three years because of documents falsification
The staff of SBGS revealed forged documents belonged to the citizen of Turkey in the airport "Zaporizhzhya".
During the passengers' registration of one of flights to Turkey the border guards of the Berdyansk Detachment found a Ukrainian residence permit owned by the foreigner, which contained the signs of partial forgery.
Currently, the citizen of Turkey is prohibited to enter Ukraine for a period of 3 years. The notification was forwarded to the National Police as to the detection of the criminal offense signs under the Article 358 of Crime Code of Ukraine (Forgery of documents, seals, stamps and forms, their sale, use of forged documents).
Source: https://dpsu.gov.ua/ua/news/za-pidrobku-dokumentiv-inozemcyu-zaboronili-vizd-v-ukrainu-na-tri-roki/