14-02-2018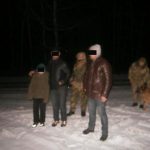 Three illegal migrants were detained yesterday by the servicemen of the SBGS in Chernihiv.
The response team from BD "Hirsk", Chernihiv Detachment managed to detain the offenders near the village of Senkivka according to the information of the local residents. They reported that three unknown persons asked them about the way to the border. The travelers were two adults and one teenager. They stopped 500 meters before the border line late in the evening. They introduced themselves as the citizens of Moldova, but could not confirm it documentally. In addition, the men reported that they missed the regular bus made it way to the neighboring country and they left behind, and supposedly remained all their personal stuff and documents.
Verification measures are performed with regard to the detainees stayed in Temporary Detention Facility, their personalities are established.
Source: https://dpsu.gov.ua/ua/news/prikordonniki-zatrimali-bilya-kordonu-3-gromadyan-moldovi-yaki-vidstali-vid-avtobusa/