18-02-2018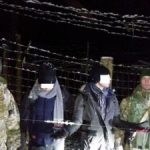 Three illegal migrants were detained near the border by the officers of SBGS.
Two of them were revealed by the border guards of Chop Detachment and detained in Transcarpathia. Border detail of BD "Uzhhorod" stopped the offenders after actuation of the special alarm device 300 meters before the border. The men, according to their words, were the citizens of Syria. The border guards of BD "Rava-Ruska", according to information and participation of the operational units of SBGS have detained a citizen of Algeria a few hundred meters from the border. As a result, a protocol was drawn up as for the foreigner for his attempt to cross the state border and handed him to the court.
Since the beginning of the year, the border guards detained more than 60 illegal migrants traveled across the border beyond the check points.
Source:https://dpsu.gov.ua/ua/news/na-zakarpatti-ta-lvivshchini-prikordonniki-zatrimali-2-siriyciv-ta-alzhircya/