26-02-2018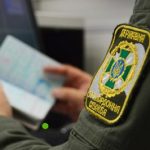 The border guards of the Separate checkpoint "Kyiv" detected a citizen of Syria with a false passport document.
The staff of SBGS stopped the passenger of one of the flights arrived from Istanbul for additional checks of the documents in the international airport "Boryspil". The woman presented the passport of Slovakian citizen for control; however, it became clear that the document was completely false. It was further established that in fact the "traveler" was a citizen of Syria. The woman together with her child attempted to get to London using the documents for which she'd paid 26 ths EUR.
Currently, the offender is returned by a back flight.
Source:https://dpsu.gov.ua/ua/news/siriyka-namagalas-potrapiti-do-londona-po-pidroblenomu-slovackomu-pasportu/