14-03-2018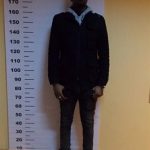 African was detained at the railway checkpoint "Chop". During the documents check, one of the passengers of the train "Kyiv – Vienna" presented the passport of the UK citizen for control. However, the border guards established that the document did not belong to the owner and was used illegally. That is why the African was not allowed to travel abroad and was detained in an administrative order. The offender did not have any documents, but introduced himself as a citizen of Gambia. According to his explanation, the passport, which he tried to use, belonged to his brother, his planned to get to Hungary.
Currently, the detainee was taken to the Temporary Holding Facility of Chop Border Detachment. After his identification he will be brought to administrative responsibility under the Part 2 Article 204-1 of the AICU "Illegal cross or attempt to  cross illegally the state border of Ukraine". In addition, the foreigner will hold responsible for criminal offence committal provided by the Part 3 Article 357 of the Crime Code of Ukraine "Theft, misappropriation, extortion of documents, stamps, seals, gaining possession of them by fraud or abuse of official position or their faulting".
It will be recall that a few days ago in the same checkpoint the border guards detained a citizen of Ghana who tried to travel to Vienna for someone's identification card.
Source: http://chas-z.com.ua/news/61240