14-03-2018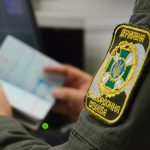 The border guards of Separate checkpoint "Kyiv" detected five forgeries of the documents in the international airport "Boryspil", which were used by the citizens while crossing the state border of Ukraine.
Two citizens of Sri Lanka had Schengen visa, which contained the signs of partial forgery. The foreigners travelled by transit through Kyiv to Vienna.
Three other cases of counterfeiting were recorded in the documents owned by the Iranian citizens. The first Iranian attempting to get to Dusseldorf with partly forged passport of the citizen of Latvia was found during the documents re-verification. The man paid 9 000 EUR for the forged passport in order to get to Germany.
Another "seeker of a better life" was detected having completely fake passport document of Italian citizen. The Iranian paid for it  500 EUR. The foreigner planned to get to Paris by this forgery.
And one more traveler was revealed having a completely forged passport of the citizen of Estonia. He wished to get to Sweden by it. The foreigner paid 9000 EUR for happiness to be Estonian.
All citizens were refused in crossing the state border of Ukraine.
Source: https://dpsu.gov.ua/ua/news/pyat-pidroblenih-dokumentiv-prikordonniki-viyavili-u-borispoli/