17-03-2018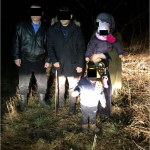 Five illegal migrants, intending to cross illegally the border on Hungary and then to get to the EU countries, were detained in the evening in the framework of the target preventive action "Migrant" by the border guards together with the staff of the National Police.
Having received information about the appearance of some people of non-Slavic appearance in the border area, the law enforcers found and detained five persons without any documents on the outskirts of the village Dyida, Berehovo district, Transcarpathia. Two of the detainees were small children, of 1.5 years and 3 years old. Their parents reported that they were the citizens of Tajikistan. Another detainee said he was a citizen of Uzbekistan.
Administrative protocols were prepared as to the detainees. Currently, they are kept in Mukachevo Temporary Detention Facility. The actions on establishing the circle of persons, being involved in the organization of illegal migrants' trip, are still continued.
The further destiny of the travelers and assessment of their actions will be determined by the court.
Source: https://dpsu.gov.ua/ua/news/poblizu-kordonu-pravoohoronci-zatrimali-nelegalnih-migrantiv-z-malenkimi-ditmi/