24-03-2018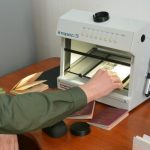 The border guards of Separate Check Point "Kyiv" in the international airport Boryspil found five illegal migrants, who travelling by transit via Ukraine intended to get to the EU countries.
The staff of SBGS stopped two citizens of Iran during the documents check. The women arrived from Ankara and then planned to depart to Brussels. They used forged foreign passports of the citizens of Ireland. They also had Iranian valid passports as well, which they intended to destroy upon arrival to the Boryspil airport, however, failed to do this. Soon, the travelers will be returned by a back flight.
In addition, the border guards revealed three persons without any identifying documents. According to their words, they were the citizens of Eritrea. As it was established, the African arrived by the flight from Shargi. Currently, measures are taken to identify the personal data and clarify all details if their trip.
Source:https://dpsu.gov.ua/ua/news/v-borispoli-dvi-iranki-z-pasportami-irlandii-planuvali-znishchiti-svoi-diysni-dokumenti/